At my most recent Show in San Francisco at the Cow Palace, on April 15, I won a Best In Show with an Intermediate Black American Sow.

At the State Cavy Convention in Fresno, Apollo, my Broken Colored Peruvian Boar won the Best In Show for the Convention Show on opening day, 31 March 2007. The next day, he won Reserve In Show in both Shows A & B. He lost to a gorgeous White Satin American in both shows.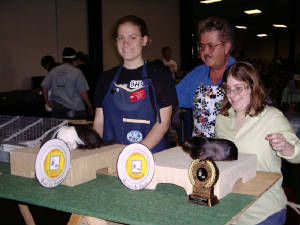 Best In Show at Fresno State Convention Show
At Lompoc Open Show in Sept. 2004, 2005 and 2006 I received Best In Show with my Black American senior sows, Storm(04), Danielle(05) and Sarah(06).